Apicoectomy- Root Canal Surgery
Root canal, or endodontic therapy, has a very high degree of success, up to 90%.  Occasionally a tooth that has undergone endodontic treatment fails to heal or pain continues despite therapy. Although rare, sometimes a tooth initially responds to root canal therapy but becomes painful or diseased months or years later. If a root canal is unsuccessful, or fails, you still have options. 
The options include:
retreatment (revising the original root canal)
apicoectomy (root canal surgery)
extraction of the tooth  
We will most likely recommend taking a CBCT prior to giving a recommendation about treatment.  A CBCT is a 3- dimensional picture of your tooth.  With this invaluable new technology we can see inside the tooth.  This is important in diagnosing a failing root canal.  It gives us more information to better advise you on treatment options.  Sometimes a tooth may have unusual anatomy and extra root canals within the tooth that can be seen on a CBCT.   This can be treated very effectively with a retreatment.  Some situations we see might be better treated by root canal surgery.  Occasionally we may see a root fracture that can't be fixed and would recommend an extraction.  
The tooth often can be successfully maintained with a second endodontic treatment.  An apicoectomy is minor surgical procedure at the end of the roots of the tooth.  In this procedure, a local anesthetic will be given. The specialist opens the gum tissue near the tooth to remove inflamed or infected tissue from the end of the root. The end of the root is also removed.  A filling is placed in the root to seal the end of the root canal.  A few stitches are placed in the gums to help heal the tissues.  
A good resource to find out more about apical surgery is the American Association of Endodontists: https://www.aae.org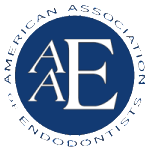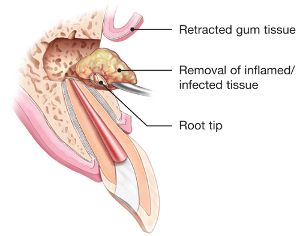 www.aae.org