1/14/2019 Pulpotomy VS. Pulpectomy
Happy New Year to all of you!  I'm hoping you had a wonderful holiday season and spent some time with family, friends, and got a chance to escape the office for a little while. 
Before I begin today's topic, I'd like to let you all know that I will be providing 2 CE hours on February 28th!  I will be giving a talk on dental anesthetics (mechanism of action and failure), pain control and integrated technology in the modern endodontic practice.  The event will be from 6-8pm at the Venue and dinner will be provided.  There is going to be limited seating.  If you are interested, please call Jenn at the office, 402-421-3636, and she can assist you in getting registered for the class.
Ok- so imagine this scenario:  It's Friday afternoon and one of your established patients calls and reports they are having the worst toothache of their life.  You tell them to come to the office, and you confirm that the tooth is in need of endodontic therapy.  Your time is limited because you have a full schedule, and you know you have to do SOMETHING because this patient is leaving town to go on a cruise tomorrow.  What do you do?? 
Option one is to refer them to our office (remember we do offer same day emergency appointments).  But let's make believe for a moment that there is no endodontist within 100 miles of your office.  Two commonplace options for pain relief is the pulpotomy and pulpectomy. 
PULPOTOMY
A pulpotomy procedure is limited to the removal of inflamed tissues restricted to the pulp chamber.  An emergency case with a diagnosis of symptomatic irreversible pulpitis due to caries, large restorations, cracked tooth syndrome or trauma (ie, pulp exposure) are potential candidates for pulpotomies.  The primary reason for doing pulpotomy over pulpectomy is the lack of time to clean and shape the root canal system.  It must be noted that should you elect to perform pulpotomy, DO NOT touch the radicular pulp!  Performing a partial pulpectomy may lacerate the remaining nerve fibers in the canal system (aka axotomizing) thus causing nerve sprouting via nerve growth factor upregulation and therefore greater postop pain. 
Should you only have time for pulpotomy, first anesthetize your patient and apply rubber dam isolation.  Make your conventional endodontic access and remove all coronal tissues to the level of the canal orifices.  Achieve hemostasis via sodium hypochlorite irrigation and apply a cotton pellet with eugenol over the orifices.  Place an intact interim restoration (ie, IRM, Cavit, etc) and appoint or refer for definitive endodontic treatment.
PULPECTOMY
Emergency cases with vital and necrotic tissues can benefit from pulpectomy procedures.  Pulpectomy is defined as the complete removal of pulpal tissues from the canal system.  As mentioned above, a partial pulpectomy should be avoided due to the partial laceration of nerve tissues which may lead to greater postoperative pain.  Once you have committed to removal of the pulpal tissues, typically an intracanal medicament such as calcium hydroxide is placed to prevent bacterial contamination of the canal system.  An intact coronal seal is placed and the patient may be referred or appointed for endodontic treatment completion.
ADJUNCTIVE THERAPIES
Other procedures which may be beneficial to your patient to help alleviate discomfort include:
1.        Occlusal adjustment:  Taking the tooth completely out of occlusion (remember to check excursive movements as well!) will help relieve pain predominantly with periradicular symptoms
2.       Postoperative analgesics:  Recent systematic reviews and meta- analysis in the endodontic literature have demonstrated that ibuprofen 600mg with acetaminophen 100mg is most effective in relieving postoperative endodontic pain (Smith et al. 2017 Journal of Endodontics; Elzaki et al. 2016 Journal of Endodontics). 
3.       Incision and drainage:  I&D is beneficial for release of fluid pressure, reduction of microbial and inflammatory mediators and increasing oxygen flow to the area which is predominantly composed of anaerobic bacteria.
4.       Antibiotics:  Beneficial for those presenting with swelling, fever, and spreading infection. 
I hope you find the above outlines beneficial for your patients.  If you have any doubts of which procedure to perform, give me a call and we can talk more.  And remember if you're interested in our CE event, give us a call!
Jamie
A Few of Our Favorite Things 12/17/18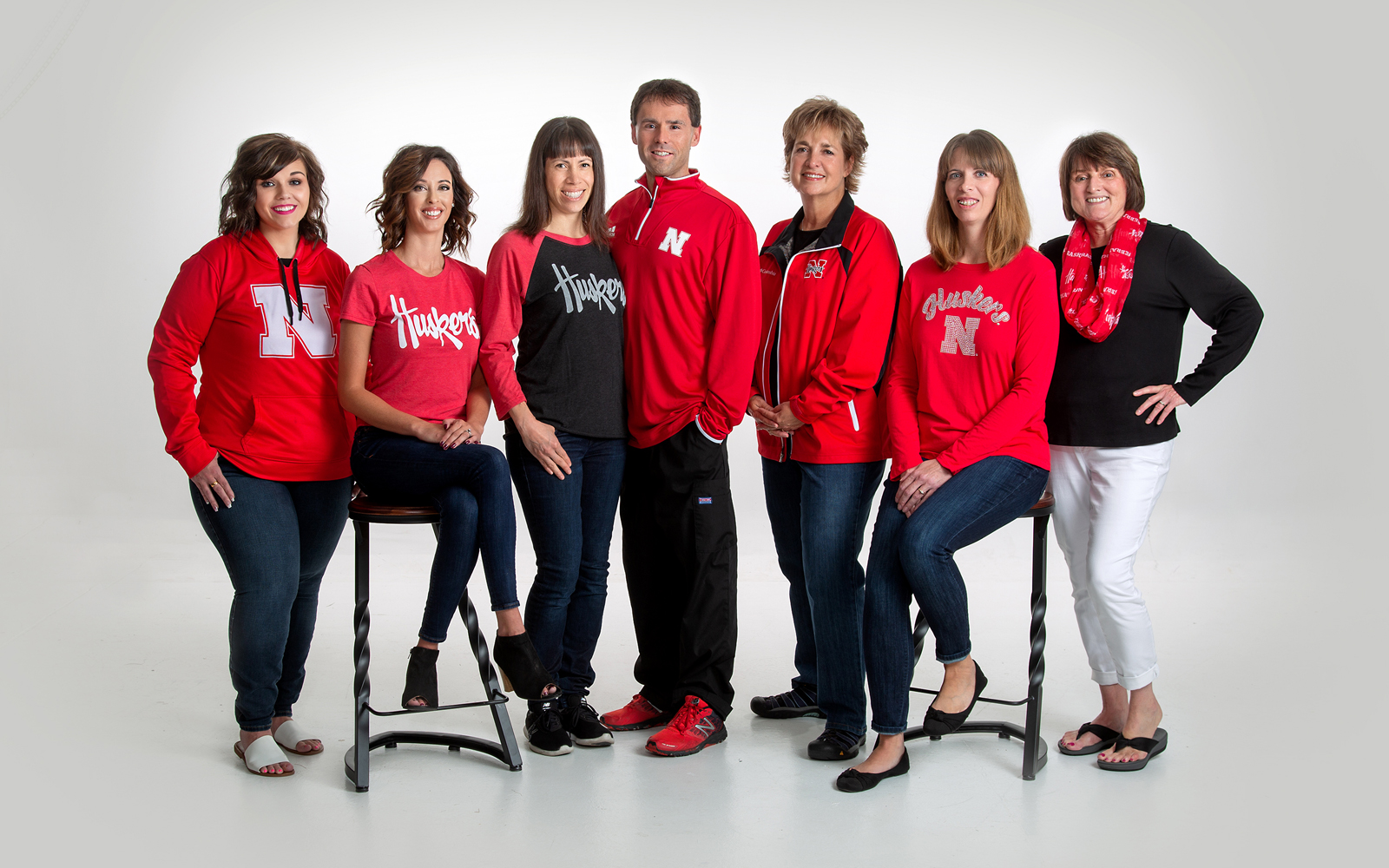 This week's Jamie's Endo Journal has a more festive and personal approach. While we love the engagement from our dental related blogs, we thought we'd change it up-- introduce you to our staff and share a few of our favorite things and holiday traditions.
Dr. Jamie is a huge Husker fan!  "Moving to Nebraska and being a husker fan, to me, means being a part of a community that has many many years of traditions. It has a big feeling of comradery and unity that I just love. It is also a generational thing; my grandpa was a husker, my dad was a husker, so I was born a husker."  He loves the holiday season and spending time with friends and family. It could also be added that his birthday is the day after Christmas—talk about double the presents!  His favorite Christmas song is God Rest Ye Merry Gentleman by the Barenaked Ladies. He says "it just has that Charles Dickens feeling!" On Christmas Eve, he can be found hanging out watching his favorite Christmas movie, National Lampoons Christmas Vacation. "Cousin Eddy- say no more!" (LOL).  One of his favorite treats, which is a "must have" during the holidays, is Pumpkin Butter. Jamie says it reminds him of the fall and the anticipation of Christmas!  His favorite family memory is from 1980 when he received the millennium falcon toy while at his grandparents house- "That was my 'Red Ryder' Christmas!"
Dr. Karla enjoys cheering on the huskers alongside Jamie and their two kids, Keira (8) and Carter (5).  "Moving to Nebraska has meant being a part of a community of good people in which I want to raise my children." If she's not cheering on the Big Red, she enjoys watching her favorite holiday film; A Christmas Story. It is special to her as one of her favorite traditions growing up was watching a Christmas Story as a family. Speaking of family, Karla loves spending time with their kids while playing in the snow. Her holiday must have is hot cocoa. "My son, Carter, loves hot cocoa in the winter. Whenever we come in after playing in the cold, we enjoy a cup together."  The song that brings out her christmas spirit is God Rest Ye Merry Gentleman by the Barenaked Ladies and Sarah McLachlan. It's a fun spin on a Christmas classic.
Ava, our patient care coordinator, loves all things Christmas- the lights, the traditions, and the music. "Every time I hear Jingle Bell Rock, I think of the movie Mean Girls. That movie made it a bop!" Growing up with a dad who is a dentist, she knows that hand washing is imperative to prevent the spread of germs. Her holiday must have is Twisted Peppermint lotion from Bath and Body Works. "I selected the peppermint lotion because in a health provider's office, you're constantly washing your hands. Especially during these cold winter months, they get so dry so fast and peppermint has just a wonderful, clean smell." Ava loves spending time with her family watching Christmas with the Kranks. She says "my younger brother's name is Hank so we always call it Christmas with the Hank." One of her favorite memories is "Several years ago at my church Christmas service we had a live nativity scene. The donkey decided to *go* on the floor right in the front row. It still cracks me up."
Terra, one of our dental assistants, can't wait for Christmas to come because it means she gets to put her crafting talents to use. Terra is the creator of our office entry wreaths and enjoys making beautiful things for everyone to enjoy. While crafting and wrapping presents, she watches her favorite holiday movie A Christmas Story. Terra says "I literally watch it on repeat all day on Christmas Eve! BEST MOVIE EVER!!..."Randy, how do little piggy's eat?" This year Terra discovered the new Hershey kisses with marshmallow filling. It is her new holiday must have. She pairs it with some hot cocoa while getting cozy by the fire. "It's the best part of the winter season." Terra's favorite holiday memory is "going over to my grandmas house to bake Christmas goodies! It was always a full weekend event that the entire family took part in." While baking they would turn on Mariah Carey Christmas songs and listening to it now brings back all of those warm memories. Her favorite Christmas song is All I want for Christmas is you.
Dr. Jeri anticipates the Christmas holiday and spending time with her family, especially her grandson. She enjoys singing a lovely alto harmony to her favorite Christmas song, The First Noel. Her holiday must have is cinnamons sticks added to apple cider. She loves the smell of the two together, "It warms up a room." Jeri likes to watch It's A Wonderful Life because "it's a great reminder of what is important." Growing up in NW Iowa, she attributes some of her favorite Christmas memories to the '60's and '70's when there was "lots and lots of snow".
Laura, our Dental Assistant Supervisor, says "Christmas is such a special time for me and my family." Laura loves to spend time with her two children, Connor (12) and Ella (7) while they are on Christmas break. "With a husband who is a teacher, we all get to spend some great quality time together." Their favorite movie to watch is Christmas Vacation because "I watched it every year as a kid and never got tired of it. Now, my family has to watch it every year, too. It's always a laugh." Laura's favorite Christmas song is Rocking Around the Christmas Tree. "It's just an upbeat Christmas song that makes me happy." Some of Laura's holiday must have's include warm apple cider and baking Christmas cookies with her daughter, Ella. "Hot apple cider- I love the taste and smell. It just gives you the holiday feels." Her favorite holiday memory was making Christmas cookies growing up. She now carries on that tradition with her daughter, Ella, who loves to bake.
Jenn, our office manager, loves creating new traditions and memories with her family. Her favorite holiday tradition is one that she started when her daughter, Ella (7) was just 2 years old. "Each Christmas, I create a 'Christmas eve box' that has a new pair of PJs for my husband Chase, Ella, and me. A king-sized fuzzy blanket so we can all fit under it, a Christmas movie, and a puzzle or game to play. We open it on Christmas eve after dinner and all snuggle up together." Her favorite Christmas song is Last Christmas by Wham! Because who doesn't love the '80's. On Christmas day you can find her watching 'the wet bandits' get demolished by paint cans and bowling balls. "Home Alone is by far one of my favorite Christmas movies. It taught me how to thwart off burglars with race cars and glass ornaments." Christmas is not complete without the warm, wintery smells- one of them being the smell of a Christmas tree. Jenn's favorite holiday smell is 'fresh balsam' room spray from Bath and Body Works. She calls it "Christmas in a can".
Joni, another dental assistant at CE, remembers Christmas eve at her mom's Church. They'd head back to her house for Chili and oyster stew. One of her favorite traditions which she carried on was making sugar cookie cutouts with her mother. She now does this with her children when they are together. Joni enjoys watching the movie ELF every year, "It just makes me laugh." Joni loves attending the candlelight service at her church. One of her favorite Christmas songs is Silent Night because they sing it at mass while everyone holds a lit candle. She said the entire experience is "quite powerful". Of all the things Joni loves about Christmas one of her holiday must haves are candy canes. She says the meaning of the Candy Cane is biblical, "the white base color of the candy cane symbolizes Jesus' purity. The red stripes signify Jesus' blood when he died on the cross."
At Cornerstone Endo, we are a family away from our families. We share in each other's joys and are here for support when needed. We love having the opportunity to share something special about ourselves with our readers and look forward to building upon that foundation. This holiday season we are extending our sincerest gratitude for making Cornerstone Endo a part of your family.
We wish you a Merry Christmas and a Happy New Year!
The Staff at CE
Surgical Considerations for Your Patient 12/10/18
It has been well established in the endodontic literature that initial treatment can have success rates into the 90th percentile.  Causes of post treatment endodontic disease can be attributed to many factors.  Some of these factors include:  poor debridement and obturation of the canal system, the failure to use rubber dam isolation, coronal leakage, and poor restoration placement.  However, some factors are beyond our control and can impact healing as well.  These include microbial factors otherwise known as extra- radicular infection.  In fact, it has been documented that in approximately 20 percent of cases that involve periapical lesions, non- surgical treatment may be ineffective due to the cystic nature of such lesions (Nair et al. 1998, 2004; Simon et al. 1980).
Many factors influence my decision whether to retreat a tooth via non- surgery or surgical means.  The biggest question I ask myself when making this decision is:  can I improve upon what has been previously done?  If I find that there has been untreated anatomy (ie, MB2), I will almost always advise for non- surgical retreatment.  However, there are some incidences in which I am in favor of surgical retreatment.  These typically include:  obstructions or inaccessible canal anatomy, previously separated instruments, anatomical complexities, resorption defects, and persisting endodontic disease (aforementioned extra- radicular infection). 
Surgical retreatment has a very favorable outcome as reported within the endodontic literature.  The current standard for endodontic microsurgery includes the use of the dental microscope, micro- instruments to facilitate proper preparation of the root apices, a small osteotomy preparation within the osseous tissues to allow for proper healing, and use of MTA and/or similar root end filling materials.  These new standards have proven success rates within the 90th percentile (Rubenstein and Kim 1999, Journal of Endodontics; Kim et al. 2008, Journal of Endodontics).
Below are some case examples of which I have performed and a brief summary of treatment:
1.        Patient presented with initial treatment performed and was symptomatic to palpation and bite stick testing.  Radiographic examination reveals a previously treated tooth (#19) with a previously short obturation of the canal system (See image 1).  There was the presence of apical periodontitis at the mesial apex.  A diagnosis of Previously treated with Symptomatic Apical Periodontitis was made and a decision to treat via non- surgically was determined (My rationale was that I believed I could improve upon the prior treatment).  Non- surgical retreatment was completed without incident (See image 2).  At one year recall (see image 3), persistence of the periapical lesion had prevailed as well as symptoms to biting and chewing.  Surgical apicoectomy was performed (see image 4) and 2 year recall revealed complete healing (see image 5).
2.      Patient recently presented to our office with pain localized to tooth #13.  Upon examination, the preoperative diagnosis was made as Previously Treated with Symptomatic Apical Periodontitis.  Radiographic examination reveals a large post within the canal space and short fill of the canal system (see image 1).  I made the decision to perform surgical retreatment as opposed to crown/post disassembly.  As you can see from the photo insert, 2 canals were present at the apex which joined via a connecting isthmus (many of these isthmus channels can only be treated surgically).  Post- op film (image 2) reveals how the 2 canals join at the apex.
It should be emphasized that surgical retreatment is a viable option for your patient when indicated.  The success rates are favorable and can be done with minimal recovery time- plus I love doing them!
If you wish to know more about this type of procedure, please give me a call anytime-
Jamie
New Irrigation Technique 12/03/2018
Irrigation is one of the most important factors in the success rate of endodontic therapy.  While many will focus on which type of file systems are "superior", many lose sight of the fact that the adage "instruments shape and irrigants clean" is so true!
While it is widely accepted that sodium hypochlorite is the irrigant of choice (in fact, it truly is the gold standard of bacterial eradication), the delivery of the irrigant is extremely important to ensure proper canal cleanliness.  The delivery method must be able to reach the apical third of the canal(s) to ensure the deltas, recesses, and isthmus ramifications are cleaned to allow for a good obturation and seal. 
I would like to emphasize that the treatment that we perform at Cornerstone is supported by evidenced based research.  This ensures that what we do is effective, proven and most importantly safe for the treatment of your patient that you refer to us.  
What I would like to focus on is how I deliver the irrigant within the canal system.  During cleaning and shaping, I use sodium hypochlorite and then flush with EDTA to remove the remaining inorganic debris (dentinal debris, etc).  Once I am satisfied with all tissue and debris removal, I then use ultrasonic agitation of sodium hypochlorite for 1 minute prior to final obturation.  This ultrasonic agitation is supported by the published works of Gutarts et al. 2005 (Journal of Endodontics) and Burleson et al. 2007 (Journal of Endodontics).  These studies demonstrated how ultrasonic agitation of the irrigant within the canal system is able to debride and remove pulpal tissues in the apical third within all isthmus, deltas, and recessed areas. 
See the photo inserts (courtesy of Burleson et al. 2007) of how well this method cleans the canals in the apical third:
Photo which demonstrates no use of ultrasonics. See debris between canals!

Photo which demonstrates the use of ultrasonics. Tissue removed nicely!
The benefit of this methodology is that it's safe for your patient and predictable (how can I argue with published 90th percentile success rates in the literature which date back to the 1960s)?  However, there are other methods that have recently been introduced to the market which have no substantiated research to back their claims.  The technology relies on minimal cleaning and shaping of the canal system, forcing irrigation to the apical third.  There is not one published article in the research data bank which shows this methodology is superior to other methods- DO NOT BE FOOLED!  The only published data that I have reviewed are case reports, which incidentally are on the lowest level of evidenced based research.  In addition, some of my peers that I have spoken with report incidences of apical bleeding, postoperative "tenderness" and worst of all- sodium hypochlorite accidents!
While I am sure that one day this recently introduced technology will be refined, I simply have difficulty justifying its use with unsubstantiated research.  Again, I like to back my treatment modality on proven research which is beneficial and most importantly safe for your patient.  If you wish to talk more about this topic, please feel free to reach out anytime!
Talk soon-
Jamie
Mandibular First Molars 11/26/18
Happy late Thanksgiving to all!  Hoping all of you had a great holiday weekend with family, friends and football-
I wanted to spend some time talking about the mandibular first molar.  Did you know that this is the most common tooth to need endodontic therapy?  The reason begins at age 6-9:  it's typically the first permanent tooth to erupt into the oral cavity. 
We were all taught in dental school that this tooth typically has 3 canals; however, my experience and current literature reviews details that this is no longer the norm.  When I treat a mandibular molar, I'm always looking for five canals:  the two mesial canals, two in the distal root and a possible mid- mesial canal. 
Caliskan et al. 1995, within the Journal of Endodontics, reported that the incidence of a mid- mesial canal within the mesial root of the mandibular first molar is approximately 3.4%.  Pomeranz et al. 1981 (Journal of Endodontics) reported an incidence of 12%; of which these were classified into the following subcategories:
a.        Independent- 3 canals extend from the chamber to the apex
b.      Fin- that of which the mid mesial canal is connected to either the MB or ML canal via a groove but has its own foramina at the apex
c.       Confluent- that of which the mid mesial canals joins either the MB or ML canal via anastomosis or other connection as it travels to the apex
As for the distal root anatomy, Caliskan et al. 1995(same study) reported a 17% incidence of two canals in the distal root.  The key to find the second canal within this root is upon access entry.  Traditionally, the access of the mandibular molar has been advocated to be oval in shape.  However, if you make your access more rectangular, this allows you to find that suspect second canal! (See photo insert)     
I've attached recent radiographs and summary of a couple recent patients in our office showing both anatomical variations. 
Case 1:  Patient presented with a history of initiation of endodontic therapy by her restorative dentist.  The tooth was asymptomatic upon presentation with a history of "aching and throbbing pain."  Radiographic interpretation and clinical testing yielded a diagnosis of Previously initiated therapy with asymptomatic apical periodontitis.  Upon access revision, I located the second distal canal and completed the endodontic therapy.
Case 2:  Patient presented with a history of prior endodontic therapy by another endodontist.  The tooth was subsequently restored with a post/core and crown restoration.  Upon presentation, the tooth was asymptomatic.  Preoperative diagnosis was determined to be Previously Treated with Asymptomatic Apical Periodontitis.  Upon removal of the post and core restoration, a third mesial canal was located with magnification and treatment was completed successfully.  The mid- mesial canal was determined to be independent having its own apical foramen.
 I hope you're enjoying this information as much as I am blogging about it…
If you can take some time and give some feedback, that would allow me to better help you!  Please send me some topics you'd like to know a little more about…I'd love to share any information I can to help you, your practice, and your patients!
Jamie (drjamie@cornerstoneendo.com)